Chelsea Barnes

Chelsea Barnes

Name

Chelsea Barnes

Age

18

Occupation

Pool Girl

Date of Birth

May 4th, 1995

Mother
Chelsea Barnes (May 4th, 1995) was born to Ali Barnes.  She and her mother traveled the country when she was growing up.  She attended several schools growing up, never really settling down.  However in 2009 she and her mother finally settled down in Rising Hope Alabama.  She started to Henry Hitchcock High School, and joined the swim team there.  She was one of the best swimmers in the school.  She is good friends with Charisma Decker and Victoria Brooke.  Chelsea enjoys video games such as the Tales series, and Super Mario Kart.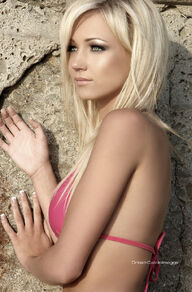 Relationships
Edit
Ali Barnes -- Mother
Co-Workers
Edit
Ace Forester -- Co-Worker/Friend
Charisma Decker -- Friend
Victoria Brooke -- Friend
Irina Decker -- Friend
Questions
Edit
No Outstanding Questions
"I love being in the water.  It makes me feel at peace."
Ad blocker interference detected!
Wikia is a free-to-use site that makes money from advertising. We have a modified experience for viewers using ad blockers

Wikia is not accessible if you've made further modifications. Remove the custom ad blocker rule(s) and the page will load as expected.